Monday, April 17, 2006
Monday, April 03, 2006
Saturday, April 01, 2006
Daria Does Time Style & Design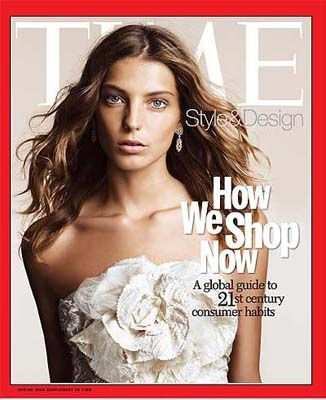 I have no idea how often, and when exactly Time's Style & Design comes out, so I just get all so excited every time I accidentally find one on magazine stands.
While looking for the LGBT titles at National Book Store this afternoon, I saw this girl standing in one of the aisles reading a magazine. I didn't get to clearly see the cover but I had a feeling it was what I thought it was.
I immediately went to the magazine section and there it was, the Spring 2006 issue of Time Style & Design. And one of my favorite models on the cover - Daria Werbowy. There were only three copies left and I carefully inspected each copy to see which issue is not so worn out yet. (Yeah, I can be that OC!)
Afterwards, I happily went to the cashier to pay for it.
The copy's beside me right now, and it's still in a plastic cover. I haven't opened it yet.
Freaky as it may sound, I have to be prepared before I open magazines that are this special. Hahaha! (For the September 2004 issue of US Vogue, I didn't open the magazine till several days after I bought it. I had to make sure I had nothing on schedule that would distract me from reading it. And before I opened it, I took a bath and got into my most comfy clothes so I could be totally fresh while I enjoy every page of the mag! For Suki's issues 1 and 2 of V Man, I waited till I got home and changed in some comfy clothes before I read the two issues.)
Anyway, I'm meeting my friend, Jon, tomorrow afternoon at Starbucks. I think that would be a nice and the right place where I can enjoy my new issue of Time Style & Design.
Tuesday, March 28, 2006
Monday, March 27, 2006
Saturday, March 25, 2006
Wednesday, March 22, 2006
Monday, March 13, 2006
Sunday, March 12, 2006
Thursday, March 09, 2006
Wednesday, March 08, 2006
Tuesday, March 07, 2006
Friday, March 03, 2006
Wednesday, March 01, 2006